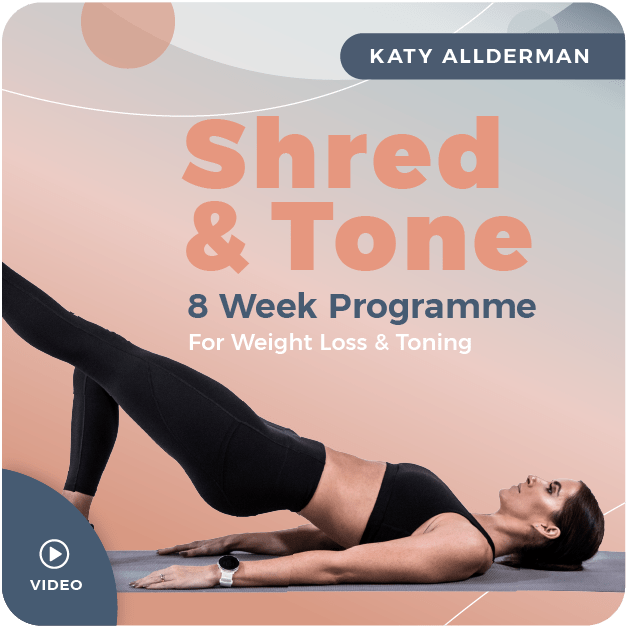 Shred & Tone @ Katy Allderman ONLINE PROGRAMME
The Ultimate weight loss and toning programme by Biokineticist Katy Allderman and Dietitian Melissa Nel.
8 Weeks of Home-based HIIT, Strength & Cardio Workouts
Exercise Demonstration Videos for Every Workout
65-Page Downloadable & Printable Training Guide
Weight Loss & Nutrition Video Lessons by Dietitian
Your Vegan/Standard Meal Plan
Access to the BodyGoals Facebook Community Private Group
This Programme is Perfect for You if You Want to:
Empower yourself with the tools to lose weight, for good
Are tired of quick fixes and unrealistic fitness programs
Become fitter & stronger
Build lean muscle
Challenge yourself
Want to learn about proper nutrition & weight loss from a qualified dietitian
Find out if dietary supplements are necessary for optimal health (science-backed information by dietitian)
Feel great!
Short & long loop elastics
Step (about 20 cm)
Bench/box (about 50 cm)
Two dumbbells
Swiss ball
Jumping rope (optional)
*You don't need the exact equipment. A couch may be a great alternative to a box/bench. Bottles filled with sand can be DIY dumbbells. Get creative!
After graduating with a BA (Hons) Degree in Biokinetics (cum laude) and opening her own practice in East London, Katy Allderman (Cloete) won the Biogen Face of Fitness title and continued her passion for helping women find confidence and zest for life through exercise. In 2021 Katy teamed up BodyGoals to develop Shred & Tone for women who want to lose weight, build lean muscle, improve fitness levels and, above all, feel and look confident by using science-backed strategies.
"I encourage you to give it your all – and I just know you'll be amazed by your results! Nothing would make me happier than to see you succeed."
– Katy
Ready for a game-changing challenge?
Start Shred & Tone today.
The Fine Print: The information provided in programme is intended for your general knowledge only and is not a substitute for professional medical advice or treatment for specific medical conditions. You should not use this information to diagnose or treat a health problem or disease without consulting with a qualified healthcare provider. Please consult your healthcare provider with any questions or concerns you may have regarding your condition or before you start this programme.